The Best Local Residential Movers in Western MA
For local residential moving, our primary service area is Hampshire and Hampden Counties in Western, MA however we do travel beyond these counties. 
Boomerang Moving and Storage is sanctioned by the Federal Motor Carrier Safety Administration for intrastate and interstate moves.  We carry all required insurances and licenses as a for hire mover.  
From Apartments to Large Households, We Provide Moving Services in a Caring, Prompt, & Professional Manner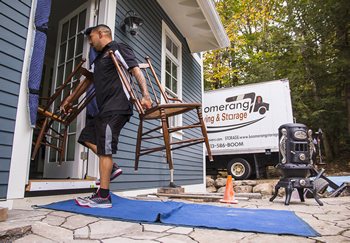 Our experienced crews are efficient, gentle, and carry an upbeat attitude making all moves go extremely smooth.  
When it comes to the handling of fragile & sentimental possessions, we have an abundance of experience.  If your fragile, antique, or sentimental items need to be bubble wrapped, blanket wrapped, boxed, crated, etc, we are your team to make sure your valued possessions are handled with extreme care.
If your move consists of the more common approach (moving already packaged items mixed with furniture, appliances, etc.), we will dedicate our moving crew with blazing efficiency and a cautious approach saving you money and time all the while safeguarding your belongings.
What You Can Expect
Our typical residential moves comprise of trucks from 15' to 26' and anywhere from 2-6 crew members depending on the size of your move.  We carry all of the proper insurances and meet all regulations under the governance of the Commonwealth of Massachusetts and the Federal Motor Carrier Safety Administration. So you can be ensured that your belongings are in good hands.
As always, our pricing is crystal clear, simple, straight forward and includes the following:
A free in-home moving estimate
Customized moving plan according to your needs
Marking and labeling if needed (please request)
Packing and unpacking if needed (please request)
Declared value insurance – if needed. You are covered up to $.60 per pound per piece by state law
Blanket wrapping, and proper attention to all your wood, glass, and precious items
Disassembly and reassembly of furniture, electronics, or anything needs disassembly to move
Efficiency, cautiousness, and friendliness making your move go easier than you ever thought.
Frequently Asked Questions About Moving Services
Boomerang Moving & Storage Residential Moves
Click on the photos below to see the Boomerang Moving Staff in action.
Planning to Move?
Boomerang Moving and Storage offers moving services and storage for residential and commercial customers in Northampton, South Hadley, Amherst, Hadley, Chicopee, Easthampton, Westhampton, Southampton, Granby, Belchertown, Longmeadow, East Longmeadow, West Springfield, Holyoke, Florence, Ludlow and all other locations in Western Massachusetts. Call Us Today (413) 535-3200 or click on the link below.