Seamless Local Residential Moving in Western Massachusetts
When it comes to local residential moving, our main focus is Hampshire and Hampden Counties in Western MA, but we also serve areas beyond these counties. Boomerang Moving and Storage holds full authorization from the Federal Motor Carrier Safety Administration for both intrastate and interstate moves. We maintain all necessary insurance and licenses as a professional for-hire mover, ensuring the safety and reliability of your move.
From Apartments to Large Households, We Provide Moving Services in a Caring, Prompt, & Professional Manner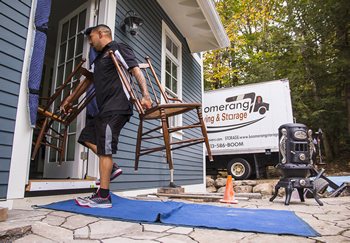 Our experienced crews excel in efficiency and a positive demeanor, ensuring smooth moves. When it comes to handling fragile and sentimental possessions, our extensive experience is a guarantee of careful treatment. Whether it's fragile, antique, or sentimental items requiring bubble wrapping, blanket wrapping, boxing, or crating, we are the team that takes extreme care with your valued possessions.
For more typical moves involving a combination of already packaged items, furniture, appliances, and more, our dedicated moving crew delivers blazing efficiency and a cautious approach. This not only saves you time and money but also guarantees the safety of your belongings throughout the process.
Here's what you can anticipate from us:
For our standard residential moves, we deploy trucks ranging from 15′ to 26′ in size, accompanied by a crew of 2 to 6 members, tailored to the scale of your move. Rest assured, we maintain all the necessary insurances and adhere to the regulations set forth by both the Commonwealth of Massachusetts and the Federal Motor Carrier Safety Administration. This means your valuable belongings are in safe hands, and you can have peace of mind throughout the moving process.
As always, our pricing is crystal clear, simple, straight forward and includes the following:
A free in-home moving estimate
Customized moving plan according to your needs
Marking and labeling if needed (please request)
Packing and unpacking if needed (please request)
Declared value insurance – if needed. You are covered up to $.60 per pound per piece by state law
Blanket wrapping, and proper attention to all your wood, glass, and precious items
Disassembly and reassembly of furniture, electronics, or anything needs disassembly to move
Efficiency, cautiousness, and friendliness making your move go easier than you ever thought.
Frequently Asked Questions About Moving Services
Boomerang Moving & Storage: Your Residential Moving Experts
Click on the photos below to see the Boomerang Moving Staff in action.
Considering a Move?
Boomerang Moving and Storage provides comprehensive moving and storage solutions for both residential and commercial clients. Our services cover a wide range of locations in Western Massachusetts, including Northampton, South Hadley, Amherst, Hadley, Chicopee, Easthampton, Westhampton, Southampton, Granby, Belchertown, Longmeadow, East Longmeadow, West Springfield, Holyoke, Florence, Ludlow, and more.
For a seamless and stress-free moving experience, contact us today at (413) 535-3200 or simply click the link below to get started. We're here to make your move a success!