Business Relocation Solutions for Companies of Every Scale
Boomerang Moving & Storage proudly serves Hampshire County and the entire Western Massachusetts region. Our comprehensive services extend to long-distance moves as well. Rest assured, Boomerang Moving & Storage is authorized by the Federal Motor Carrier Safety Administration for interstate relocations, and we hold our MC# for intrastate moves. Additionally, we maintain all the necessary insurance coverage for our industry.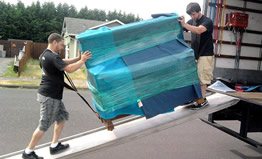 Commercial moving demands a unique skill set, separate from that of residential moves, even though both share common elements. Whether you're relocating law offices, retail businesses, restaurants, academic buildings, or industrial facilities, our experienced team and specialized equipment ensure the utmost efficiency throughout every stage of your move. In addition, we provide storage solutions in our warehouse for furniture, fixtures, equipment, computers, files, and more, catering to your storage needs.
Streamlined Solutions for Your Business Needs
Whether you're looking to expand, liquidate, acquire, renovate, or reconfigure, Boomerang Moving & Storage offers tailored solutions to meet your requirements. Our top priority, when handling the relocation of your business or any segment thereof, is to guarantee maximum efficiency, minimizing any disruption to your daily business operations.
What You Can Expect
At Boomerang Moving & Storage, our standard moving services involve a range of trucks, spanning from 10′ to 26′, and a dedicated crew of 2 to 12 members to efficiently manage your relocation. Rest assured, we maintain all the necessary insurance coverage and adhere to the regulatory requirements set forth by both the Commonwealth of Massachusetts and the Federal Motor Carrier Safety Administration. This commitment ensures the safety and security of your belongings, providing you with peace of mind throughout the moving process.
Considering a Move?
Boomerang Moving and Storage provides comprehensive moving and storage solutions for both residential and commercial clients. Our services cover a wide range of locations in Western Massachusetts, including Northampton, South Hadley, Amherst, Hadley, Chicopee, Easthampton, Westhampton, Southampton, Granby, Belchertown, Longmeadow, East Longmeadow, West Springfield, Holyoke, Florence, Ludlow, and more.
For a seamless and stress-free moving experience, contact us today at (413) 535-3200 or simply click the link below to get started. We're here to make your move a success!