Moving Services for Businesses of All Sizes
Our primary service area is Hampshire County and all of Western Massachusetts. We also accommodate long distance moves. Boomerang Moving and Storage is sanctioned by the Federal Motor Carrier Safety Administration for interstate moves and possess our MC# for all intrastate moves. We carry all proper insurances for our trade.
Skilled, Reliable, Fast Movers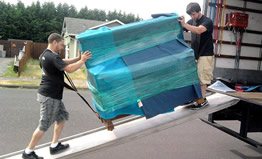 Commercial moving requires a set of skills that are vastly different than that of residential moves even though the two processes mirror each other in many ways. From law offices, retail businesses, restaurants, academic buildings, plants, etc. we have the team and equipment to make every aspect of your move highly efficient. We also have a warehouse if any furniture, fixtures, equipment, computers, files, etc need to be put into storage.
Moving Solutions for Every Type of Business
If you need to expand, liquidate, acquire, remodel, or rearrange, Boomerang Moving and Storage has a solution for you. Our number one goal when it comes to the relocation of your business or any portion of it, is to ensure absolute efficiency to minimize any impact on the daily operations of your business.
What You Can Expect
Our typical moves comprise of trucks from 10' to 26' and anywhere from 2-12 crew members to handle your move. We carry all of the proper insurances and meet all regulations under the governance of the Commonwealth of Massachusetts and the Federal Motor Carrier Safety Administration. So you can be ensured that your belongings are in good hands.
Planning to Move?
Boomerang Moving and Storage offers moving services and storage for residential and commercial customers in Northampton, South Hadley, Amherst, Hadley, Chicopee, Easthampton, Westhampton, Southampton, Granby, Belchertown, Longmeadow, East Longmeadow, West Springfield, Holyoke, Florence, Ludlow and all other locations in Western Massachusetts. Call Us Today (413) 535-3200 or click on the link below.